Meetings IT supports today's meeting managers performing those technology related tasks that 1) do not require a full-time staff on hand or 2) are outside of the on-hand resources within your organization.
We help you turn software into business solutions.  Whether you are planning to, or have already purchased an industry recognized application or are building a custom application, we will make sure you get everything out of your investment that you can.  We go beyond the installation of the software to make sure that you and your users know how to apply the features of the application to your business needs.
| | | |
| --- | --- | --- |
| | Event Website Design and Support | |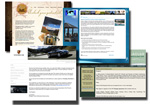 There are a host of Application Service Providers (ASPs) delivering state-of-the-art meeting management and registration technologies to today's meeting professional.

Whether you are looking for help finding the right system for you or just need experienced people to guide you to take advantage of these technologies, Meetings IT is your dedicated resource.  Staffed with seasoned technically savvy meeting managers, not programmers, we know how to get the most out of today's on-line applications.  We will ensure you understand all your options so you can make informed decisions based upon the proven processes.
Take a moment to view some samples of our work.
| | | |
| --- | --- | --- |
| | Data Management Services | |
Whether you have a single project that needs an extra pair of hands or you simply want to outsource all of your registration management, we're the solution.
We provide the staff to work with your existing system(s), work with a an on-line service of your choice or custom design and develop a system to meet your specific needs.
| | | |
| --- | --- | --- |
| | Name Badges and Personal Agendas | |

We specialize in creating custom name badges that provide deatiled information about the attendee right on the badge. From custom color coding, symbols and conditional information to fully personalized agendas, we help make the a integral part of the attendee experience.
We can work with industry standard stock, adding company or theme logos or we can create custom stock to meet specialized needs.
Take a moment to view some samples of our work.
| | | |
| --- | --- | --- |
| | Training | |
Using a hands-on, experiential learning approach, we will get your staff up and running on new applications faster and with greater confidence.
Take productivity to the next level:  we can create advanced user training that goes beyond the basics to turn your staff into power-users.
Our Microsoft Office for the Meeting Planner course. This half-day course teaches planners who have used MS Word and Excel, a series of techniques that are specifically targeted for meeting planning.
| | | |
| --- | --- | --- |
| | Technology Assessment | |
Understanding what it is you want to accomplish with a project is fundamental. We will bring objective clarity to your business process.  We emphasize the strong points and identify the areas in need of improvement.  We clarify and separate emotional desires from true requirements.
With a clear understanding of where technology can have a real impact on your process, you can better match your needs to the features various alternatives available.
| | | |
| --- | --- | --- |
| | Implementation Planning | |
We provide the arms and legs to take the product beyond installation.  With a clearly defined road map of how the technology will be applied to your business process and an integrated communications plan with the user group, you will be able to reap the benefits so easily touted in the sales process but so seldom achieved in reality.